Vehicle Relocation
Experienced. Whatever your vehicle, Oakwood Transport delivers - door to door. Oakwood has the trailers to move new cars, classic cars, show cars and everyday cars as well as SUV's, trucks, vans - even inoperable vehicles. Why deal with an "arranger"? Oakwood is the company with the carriers. With Oakwood, once loaded - it's one truck, one trailer, right to the destination. As full time exclusive car carrier drivers, Oakwood drivers go the full distance everywhere in North America. They are experienced at crossing the US/Canada border in both directions and Oakwood is both a Canada and US Customs Bonded Carrier. If you're shipping overseas, Oakwood will deliver it to the port and arrange the freight forwarding. Whether by closed or open carrier, train, boat or plane - make it a no hassle move with Oakwood. We are also approved carriers for companies such as Chrysler, Ford, Subaru, Mitsubishi, Audi and Volkswagen.

Insured. If anything should happen, Oakwood has primary vehicle coverage while your vehicle is in transit. Oakwood is licensed to run in all of the states and provinces in North America. Your vehicle is never left unattended. If your vehicle is being kept overnight at our facility, indoors or out, it is attended 24/7 by Oakwood employees.

Free Estimates. Snowbirds, eBay purchases, show cars, military relocations, dealer or wholesaler deliveries - Oakwood drivers value your vehicle the way only a professional driver can. Oakwood provides door to door service and delivers dependably, on time and at competitive, affordable rates. Call 1-800-265-4008 for a fast, free estimate.
No Deposit. We never ask for money up front and you will always know the final price. Our terms are simple - C.O.D. (Visa or Mastercard).
Online Canadian Plated Vehicle Forms
(Returning Snowbird Package)
Download US to Canada Checklist and Forms
(US Titled Vehicles Only)
Download Canada to US Checklist and Forms
Download Within Canada Checklist and Forms
1) Right click on one of the forms above and save it to your computer.
2) Fill in the form on your computer.
3) Email the completed form to brian@oakwoodtransport.com.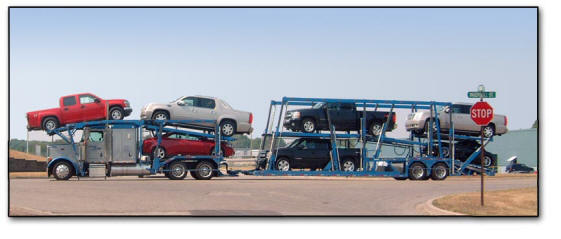 Click photos to enlarge