Auto Carrier Manufacturing/Repairs
Oakwood Transport has a team of expert welders and mechanics that are able to make all types of major or minor modifications and retrofits to your auto carrier. As well, they maintain our current fleet in tip-top mechanical shape, avoiding unnecessary mechanical delays on the road or damage to our customer's freight. Our service facility has four maintenance bays, state of the art equipment and dedicated employees familiar with all makes of auto carriers.
We are a factory authorized repair facility for Delavan and Cottrell handling warranty repairs, factory recalls, custom modifications and accidental damage repairs.
Now, you can also purchase one of our expertly built 3 or 4 car Oakwood Auto Carriers manufactured by the same team of expert welders and mechanics. These smaller carriers have similar mechanical attributes to full size carriers… the same steel frame, hydraulics and aluminum decking. Our custom built Low Boy style trailers will allow you to haul larger vehicles up to 100" in height and 102" in width and of course are much more affordable. Standard units can be modified or custom built to suit any customer's needs. Oakwood Auto Carriers are built to meet Transport Canada's Motor Vehicle Safety Standard #115.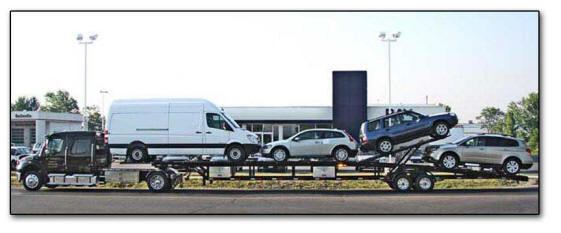 Click photos to enlarge